Протидія булінгу в європейських країнах: кримінально-правові аспекти
Ключові слова:
булінг, цькування, дискримінація, антибулінгове законодавство, антибулінгова політика, кібербулінг, харасмент, сталкінг
Анотація
У статті аналізуються статистичні показники проявів булінгу та кібербулінгу, досліджуються теоретико-правові питання їх визначення та сучасного розуміння в різних країнах Європи. Висвітлюються особливості антибулінгової політики різних європейських країн, наводяться їх загальні положення. Акцентується увага на окремих положеннях кримінальних законів Великобританії, Франції, Іспанії, Італії. Установлені сучасні європейські тенденції щодо відповідальності неповнолітніх за вчинення діянь, які мають ознаки булінгу. На цьому тлі побіжно аналізується стан кримінально-правового регулювання булінгу в Україні, формулюються пропозиції із гармонізації національного законодавства стосовно протидії цькуванням.
Посилання
Addressing Bullying in Schools Act (NI). (2016). Chapter 25. URL: https://www.eani.org.uk/sites/default/files/2019-04/Addressing Bullying in Schools Act %28Northern Ireland%29 2016.
Agnė Margevičiūtė. (2017). The Definition of Bullying in Compulsory Education From a General to a Legal Perspective. Baltic Journal of Law and Politics. A Journal of Vytautas Magnus University. Vol. 10 (1), 205–229. URL: https://doi.org/10.1515/bjlp-2017-0008.
Ahmad Baliyo Eko Prasetyo. (2011). Bullying di Sekolah dan Dampaknya bagi Masa Depan Anak. el-Tarbawi. Vol. 4 (1), 19–26. URL: https://doi.org/ 10.20885/tarbawi.vol4.iss1.art2 [in Indonesian].
Aurelija Pūraitė, Natalja Prokofjeva. (2018). Policy of European Union on the Safety of Children in Cyber Space. Public Security and Public Order. 21, 104–119. URL: https://repository.mruni.eu/handle/007/15523.
Behind the numbers: ending school violence and bullying. (2019). UNESCO. URL: https://unesdoc.unesco.org/ark:/48223/pf0000366483.
Code pénal. Version consolidée au 12 août 2020. Partie législative. URL: https://www.legifrance.gouv.fr/affichCode.do?cidTexte=LEGITEXT000006070719 [in French].
Código Penal y legislación complementaria. N d. N. p. URL: https://www.boe.es/legislacion/codigos/abrir_pdf.php?fich=038_Codigo_Penal_y_legislacion_complementaria.pdf [in Spanish].
Decreto regio 1398/1930. N. d. N. p. URL: https://www.normattiva.it/uri-res/N2Ls?urn:nir:stato:regio.decreto:1930-10-19;1398 [in Italian].
Giménez-Guado, A., Arnaiz-Sánchez, P., Cerezo-Ramírez, F., Prodócimo, E. (2018). Percepción de docentes y estudiantes sobre el ciberacoso. Estrategias de intervención en Primaria y Secundaria. Revista Comunicar. 56 (26), 29–38. URL: https://doi.org/10.3916/C56-2018-03 [in Spanish].
Hate Crime Report 2018–19. (2019). Crown Prosecution Service Delivering justice. N. p. URL: https://www.cps.gov.uk/sites/default/files/documents/ publications/CPS-Hate-Crime-Annual-Report-2018-2019.PDF.
LEGGE 29 maggio 2017, n. 71 Disposizioni a tutela dei minori per la prevenzione ed il contrasto del fenomeno del cyberbullismo. (17G00085) (GU Serie Generale n. 127 del 03-06-2017). (2017). URL: https://www.gazzetta ufficiale.it/atto/serie_generale/caricaDettaglioAtto/originario?atto.dataPubblicazioneGazzetta=2017-06-03&atto.codiceRedazionale=17G00085&elenco30giorni= false [in Italian].
Muthanna Samara, Vicky Burbidge, Aiman El Asam, Mairéad Foody, Peter K. Smith, Hisham Morsi. (2017). Bullying and Cyberbullying: Their Legal Status and Use in Psychological Assessment. Int. J. Environ. Res. Public Health. 14 (12), 1449. URL: https://doi.org/10.3390/ijerph14121449.
Olweus, D., Limber, S.P. (2018). Some problems with cyberbullying research. Current Opinion in Psychology. 19. 139–143. URL: https://doi.org/ 10.1016/j.copsyc.2017.04.012.
Online hate speech. Findings from Australia, New Zealandand Europe. (2020). eSafety research. N. p. URL: https://www.esafety.gov.au/sites/default/ files/2020-01/Hate%20speech-Report.pdf.
Preventing and tackling bullying Advice for headteachers, staff and governing bodies. (2017). Department for Education. N. p. URL: https://assets. publishing.service.gov.uk/government/uploads/system/uploads/ attachment_data/file/ 623895/Preventing_and_tackling_bullying_advice.pdf.
Salmon, S., Turner, S., Taillieu, T., Fortier, J., Afifi, T.O. (2018). Bullying victimization experiences among middle and high school adolescents: Traditional bullying, discriminatory harassment, and cybervictimization. Journal of Adolescence. 63. 29–40. URL: https://doi.org/10.1016/j.adolescence.2017.12.005.
Semerci, A. (2017). Investigating the effects o personality traits on cyberbullying. Pegem Eğitim ve Öğretim Dergisi. 7(2). 211–230. URL: http://dx.doi.org/10.14527/pegegog.2017.008 [in English, in Turkish].
Tackling online sexual harassment amongst young people. Project deSHAME (Childnet, Save the Children Denmark, Kek Vonal, UCLan). (2018). N. p. URL: https://www.childnet.com/ufiles/Full-Impact-Report---Resources-to-tackle-peer-on-peer-online-sexual-harassment.pdf.
Virginia Dalla Pozza, Anna Di Pietro, Sophie Morel, Emma Psaila. (2016). Cyberbullying among Young People. Directorate – General for Internal Policies – Policy Department C: Citizens' Rights and Constitutional Affairs. Study for the LIBE Committee. N. p. URL: http://www.europarl.europa.eu/RegData/ etudes/STUD/2016/ 571367/IPOL_STU(2016)571367_EN.pdf (дата звернення: 01.09.2020).
Willard. N.E. (2007). Cyberbullying and Cyberthreats: Responding to the challenge of Online Social Aggression, Threats, and Distress. APPENDIX K Parent Guide to Cyberbullying and Cyberthreats.Champaign,IL: Research Press. URL: http://www.embracecivility.org/wp-content/uploadsnew/2012/10/appK.pdf (дата звернення: 01.09.2020).
Vedernikova, A.O. (2019). Neobkhidnistʹ kryminalʹno-pravovoho rehulyuvannya kiberbulinhu. Protydiya kiberzahrozam ta torhivli lyudʹmy: zbirnyk materialiv Mizhnarodnoyi naukovo-praktychnoyi konferentsiyi, m. Kharkiv. 26 lystopada 2019 roku. Kharkiv: KHNUVS. 42–45 [in Ukrainian].
. Yedynak, I. (2017). Konstruktyvni osoblyvosti st. 163 Kryminalʹnoho kodeksu Ukrayiny «Porushennya tayemnytsi lystuvannya, telefonnykh rozmov, telehrafnoyi chy inshoyi korespondentsiyi, shcho peredayutʹsya zasobamy zvʺyazku abo cherez kompʺyuter». Aktualʹni problemy pravoznavstva. issue 3, 148–154. URL: http://dspace.tneu.edu.ua/bitstream/316497/25654/1/Єдинак%20І..pdf [in Ukrainian].
Yedy`ny`j zvit pro kry`minal`ni pravoporushennya za sichen`-gruden` 2019 roku. (2020) General`na prokuratura Ukrayiny: veb-sajt.. URL: https://old.gp.gov.ua/ua/stst2011.html?dir_id=113897&libid=100820&c=edit&_c= fo [in Ukrainian].
Zvit sudiv pershoyi instantsiyi shchodo roz·hlyadu sprav pro administratyvni pravoporushennya zvedenyy № 1-P za 2019 rik. (2020). URL: https://court.gov.ua/inshe/sudova_statystyka/rik_2019 [in Ukrainian].
Kodeks Ukrayiny` pro administraty`vni pravoporushennya [The Code of Administrative Offenses]: Zakon Ukrainy [Law of Ukraine] vid 7 hrudnia 1984 r. № 8073-X. URL:https://zakon.rada.gov.ua/laws/show/ 80731-10#Text.
Kryminalʹnyy kodeks Ukrayiny [The Criminal Code of Ukraine]: Zakon Ukrayiny [Law of Ukraine] vid 5 kvitnya 2001 r. № 2341-III. URL: https://zakon.rada.gov.ua/laws/show/2341-14#Text.
Mal`ovana, I.Yu., Trikash, N.V., Kolesny`k, M.O. (2014). Do py`tannya pro zlochy`ny`, vchy`neni z moty`viv nacional`noyi, rasovoyi chy` religijnoyi neterpy`mosti. Suchasni problemy` kry`minal`no-pravovogo zabezpechennya oxorony` osoby`sty`x prav i svobod lyudy`ny` ta gromadyany`na: zbirny`k materialiv «kruglogo stolu», m. Sumy`, 17-18 zhovtnya 2014 r. Xarkiv: Zolota my`lya, 93-100. [in Ukrainian].
Opol`s`ka, N. (2019). Buling: yury`dy`chny`j sklad administraty`vnogo prostupku. Pidpry`yemny`cztvo, gospodarstvo i pravo - Entrepreneurship, economy and law, 10, 101-106. URL: https://doi.org/10.32849/2663-5313/2019.10.17 [in Ukrainian].
Pro osvitu: Zakon Ukrayiny vid 5 veresnya 2017 r. № 2145-VIII. (2017). Vidomosti Verkhovnoyi Rady Ukrainy, 39–39, art. 380. URL: https://zakon.rada.gov.ua/laws/show/2145-19#Text.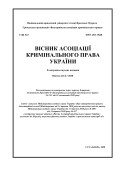 ##submission.downloads##
Розділ
ПИТАННЯ ОСОБЛИВОЇ ЧАСТИНИ КРИМІНАЛЬНОГО ПРАВА
Ліцензія
Авторське право (c) 2020 Вісник асоціації кримінального права України
Ця робота ліцензується відповідно до Creative Commons Attribution 4.0 International License.